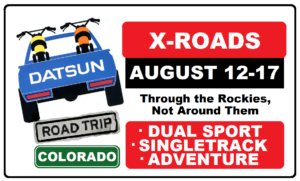 So you think you may want to ride motorcycles in Colorado and the Rocky Mountains?
We may have the answer.
X-Roads is a classic Dual Sport event, the way they were in the early days. You won't find games, talks, or seminars.
For the Dual Sport & Singletrack rides, you will find enduro based loops that take just about all day to complete.
Adventure Loops can either be a casual ride, a challenging ride or 2 days with overnight Lodging on you in some of the most fantastic scenery available in the Rocky Mountains.
X-Roads is a Club ride. Just sign-up and you're in. No qualifying, no required meetings, no required work parties, no politics.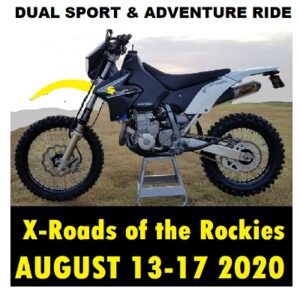 You have your choice to ride Dual Sport, Singeltrack or Adventure Loops. For 5 days.
X-Roads promises you challenges and scenic landscapes and enough stories to tell for awhile.
– Michael Brown , Exit Tours MC Chief Instigator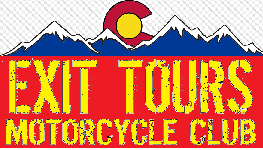 The 2020 version of the X-Roads of the Rockies will be held August 13-17 from the Chaffee County Fairgrounds @ the Crossroads in the Heart of the Rockies. Camping set-up from the 12th.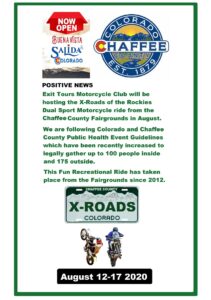 Dual Sport & Singletrack < 15 % Pavement. 2 Day Adventure loops available• Multiple High Mountain Pass Summit's / 25+ Loop Options . You ride what you want, when you want. With who you want. Though we discourage riding in large groups.• Ride a legal pass through the Wilderness and along the Arkansas River

• Xtra Singletrack & Bailouts available on the Dual Sport loops

• X-Roads 2020 will include Camping 5 nights camping. Wednesday until Monday at the Chaffee County Fairgrounds. Hook-Ups extra

• Friday & Saturday Night Dinner & Bonfire. Breakfast Sat. & Sunday

• Ride to Alpine Lakes and Arkansas River locations and Fish* if you wish

• 5 Developed Hot Springs in the general area. Showers Onsite

• Exit Tours Club Membership & X-Roads T-Shirt. Participation Pin

• GPS tracks will be emailed with Ride with GPS Club Membership Included

• Pre-Entry includes ALL of the Above

• ADV Bikes are encouraged for the ADV Loops
*Fishing license recommended

What is Vintage DUAL SPORT ? (Link)
You better know how to ride rocks if you want to ride in Colorado. After all, it is the Rocky Mountains.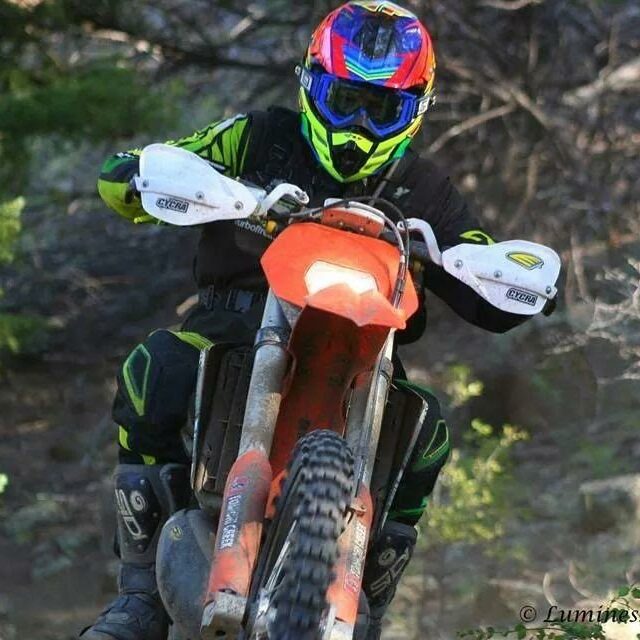 Mark W
This event enabled me to ride areas and connect trails as if I was a local. The trails, scenery and camaraderie were beyond my expectations. A vacation of a lifetime –
Neville C
Beyond expectations! Mike and his team really did an outstanding job organizing the ride.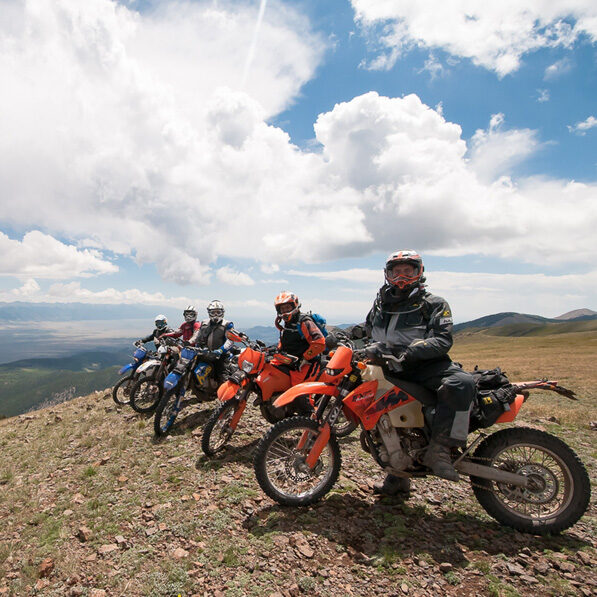 Randy M

Countdown Until Crossroads of the Rockies Dual Sport, Singletrack & ADV Ride
DATE: August 13 2020